Electronic ID Reader and Age Verifier To Help You Stop Identification Card Fraud
Did you know Minors can easily alter or obtain genuine-looking drivers license that is impossible to spot with the naked eyes? Detect fake ID, expired or altered ID, prevent costly fines and license revocation, verify age with ViAge or ID-e Reader age verifier. Learn how you can protect your business with Electronic Age Verification system.
Age verifier or ID scanner is an electronic device that helps businesses check the drivers license of their customers to make sure the customer is of legal age to purchase controlled products. State issued IDs such as driver's license or Military IDs have digital information encoded in either the magnetic stripe or in a 1D or 2D barcode on the back of the identification card. The magnetic stripe format is the older technology and the barcode format is the newer technology. While each State uses either the magnetic stripe format or the barcode format, you may find both formats present in some states that are transitioning from the magnetic stripe to barcode format. So, before you purchase ID scanner or age checker, verify your state's current ID format with your local motor vehicle office.
ID Scanners CAV2000, CAV3100, and ID-e2001 are designed to read only the magnetic stripe. They can only be used in states with magnetic stripe ID format. CAV3200 and ID-e2004 are designed to read both magnetic stripe and barcode. They can be used in all states. If you are in a magnetic stripe state, but your business is located where you will have customers from out of state with bar coded driver's license, you may consider buying the ID reader that reads both magnetic stripe and barcode formats. Selected models of the drivers license scanner have memory, and can store the data captured. This data can be very helpful, especially for future references and as proof that customer's ID was checked.

ViAge is a proven effective and affordable solution to detect fake ID.
ViAge detects altered and expired IDs so you don't sell to minors.
With a single swipe of a drivers license or identification card, ViAge instantly displays the age and date of birth of the card holder. This helps to eliminate guess work and minimizes long checkout lines. No connection to computer. Viage drivers license checker models available are CAV2000 and CAV3000.
Viage works in these Compatible States
ID Solutions for the Electronic Age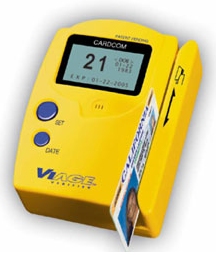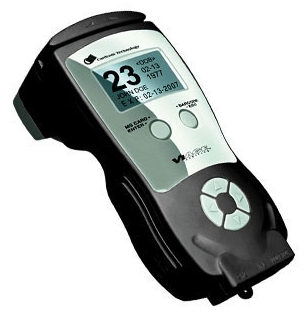 Click here to buy

Tricom is the most accurate and dependable driver license scanner on the market. Tricom age checker is proven to detect fake ID cards and eliminates the hassles with customers and gives your employees the security and conformability of checking ID. Unique design of the ID-e Reader allows you to add or upgrade to barcode anytime. Just purchase the ID-e with Magnetic Stripe reading and add barcode reading anytime in the future. This portable ID scanner is available with optional compliance software for reporting. Capture photos, ban customers with the Tricom
ID-eM300 ID Reader
.
ID-e Reader works in these Compatible States
The Ultimate Portable ID Reader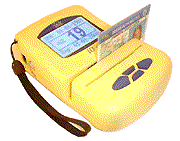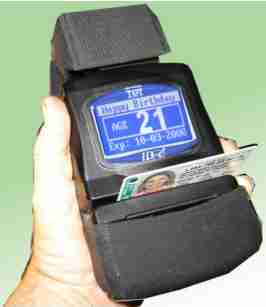 Click here to buy
Features:
• Simple one swipe operation.
• Displays Age, Birth Date or Expired.
• Compact & Portable (Walkman size).
• No connection or installation.
• Audio output in form of a Buzzer.
• Graphic LCD screen is lit in Dark.
• Stand alone unit.
• No hook up or additional hidden fees.
• Easy to use menu options.
• Rechargeable battery (CAV3000 Series).
• Includes Power adaptor.
Functions & Reason for checking ID:
• Detect fake, altered or expired ID.
• Prevent costly fines and license revocation.
• Avoid employee and customer confrontation.
• Streamline & significantly cut transaction time.
• Displays the age of cardholder.
• Eliminates guess work.
• User-friendly.
• Reads magnetic stripe (CAV2000 / CAV3100).
• Reads magnetic stripe & barcode (CAV3200).
• Data capture / memory (CAV3000 Series).
• Smart card reader & writer.
Who Needs to Check ID:
• Liquor Stores
• Night Clubs
• Bars
• Convenience Stores
• Grocery Stores
• Cigar shops
• Movie theaters
• Gun shows
• Casinos
• All Events Selling Age Sensitive Products
• All Events Selling Age Sensitive Services
Not only does age verifier helps protect your business, it also provides additional benefits. For example, it helps minimize human errors, reduce checkout times at point of sale, increase productivity, and makes it easy to collect customer data. In addition to checking or verifying ID, some models of age verifier, such as Viage CAV3200-POS, can also be used as a magnetic stripe reader to process credit card payment processing as well as a barcode scanner for scanning barcodes at POS checkout stations. This minimizes the amount or number of Point of Sale System hardware on your POS counter. It is important to note that using the age verifier as a Magnetic Stripe Reader (MSR) or as a UPC barcode scanner depends on the model and the POS Software being used at the point of sale. So, we recommend that before you purchase CAV3200-POS for this application, you verify that it is compatible with your POS System software.
The ID Scanners come with everything you need to start checking IDs right out of the box. Just install the battery, set date and time, and the parameters you prefer to use. The drivers' license readers are portable and light weight. They fit in one hand, and are easy to carry. They are battery-operated, so there is no need to connect to power outlet. No need to connect to computer. For models that come with software, you connect to your computer only when you want to download scanned data into your computer or to program the device.
Verify ID with Verifone Tenminal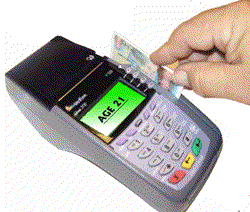 If you are already using Verifone Omni 3700 terminal to process credit card payments, you can also use the same terminal to verify drivers license. Just download the Age Verification Software into the terminal and you are ready to check IDs. >>learn more.
CAV3200 As A POS Scanner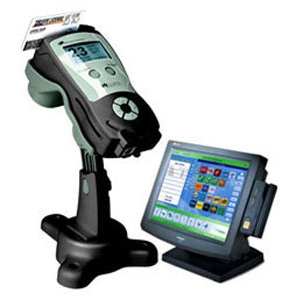 You can use Viage CAV3200-POS as a checkout POS scanner for scanning product UPC barcodes as well as age verification device. This minimizes the need for too many POS hardware on your checkout counter. >>learn more.
POS Age Verifying Software
PC based age verification software that can be installed on your POS System computer to verify IDs. When a driver license is scanned, the age verifying screen appears from the lower right tray of your computer screen and fills the screen to your custom set preference. >>learn more.