Point of Sale & Cash Register Age Verification Software and Hardware
Now, you can use one device to electronically read all valid government issued ID Cards or drivers license. With this Age Verifier Software, in conjunction with optional ID-eM200, ID-eM250 or ID-e Reader, you can implement age verification right on your POS System or Cash Register System. You do not have to buy a new POS System or Cash Register. This age verification system can easily connect you your existing Point of Sale System. The ID Scanner software and your choice of ID Reader are installed and setup on your POS Computer. When a driver license or ID is scanned, the display appears from the lower right tray of your computer screen and fills the screen to your custom set preference. After a few seconds, the display screen disappears down to the right hand tray of the computer screen out of sight until the next scan. You can TAG or BAN a customers at any time. An unlimited number of records can be stored and saved on your computer, and only drivers license number, State, and Age are recorded in a simple TXT report form.
For Age Verification at Point of sale, the ID-e Reader, M250 and M200 are the best readers for direct input of Driver License data for PC use on the market today. They have small foot print, easy to use and cost effective. With the Age Verifier Software loaded on your Cash Register Computer, and the Card Reader - your option of the ID-e Reader, M200 or M250, or even a simple 3 Track Card Reader or Barcode reader connected to the computer, you can now check ID cards. The M200 / M250 connect to the standard RS232 or USB of the host system. ID card is simply inserted in the M200 / M250 which reads and decodes barcodes, and transfers the data to the host terminal for calculations and display.
This system is ideal for driver's license verification and scanning, ID Authentication, and verifying age at Casinos, Gaming resorts, Check Cashing stores, Credit card acceptance, POS terminals, Automatic Data Entry sites, Police Patrols, Voting systems, Border Control offices, Law Enforcement, and many more. It is also applicable for Kiosks, Visitor / Lobby management, Access control, Passenger check-in, Department of Motor Vehicles, Club VIP, and Loyalty card.

Age Verification screen can be resized to fit your screen. Data reports can be generated.

Three ways to Scan into your Cash Register System

ID-e Reader

M200 2D Barcode
Reader Only

M250 2D Barcode &
Magnetic Stripe Reader




---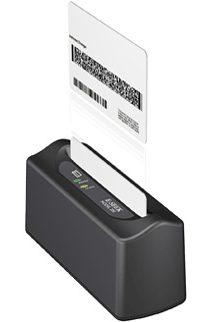 ID-eM200 2D Barcode Reader. For use in Barcode States ONLY.
• All US States & Canada
• Reads Driver License, ID's, Custom cards, Loyalty cards, ISO Card formats and more
• USB or RS232
• Black

---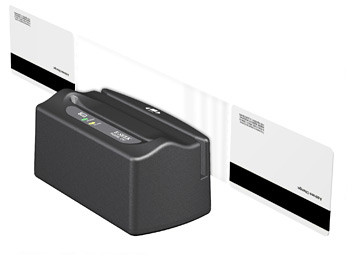 ID-eM250 2D Barcode & Magnetic Stripe Reader. For use in all Barcode and Magnetic Stripe States
• All US States & Canada
• Reads Driver License, ID's, Custom cards, Loyalty cards, ISO Card formats and more
• USB or RS232
• Black

---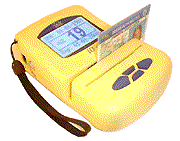 ID-e Reader only
Click for details and selection
---


POS Age Verification / Visitor Management Software

(Download only)


• POS Cash Register Age Verification
• Visitor & Lobby Management, Marketing Management, etc. &nbsp More Info
• Government and Private dispensary

---
Drivers License Scanner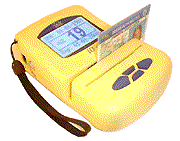 This simple and affordable ID checker allows you to scan ID and instantly view the age, date of birth on the display. With the optional Compliance Software, you can also download and save captured information in your computer for future reference. >>learn more.
Privacy Statement
All owners of Age Verifiers are cautioned to be responsible in their use of the data reading and storage into the ID-e Reader. It is recommended that you erase data and records in accordance with applicable State Laws. Keep all data and records out of reach of non-management employees. When you no longer need the data or records, erase them. Only safely keep data and records for legal defense.
Viage Age Checker

Another brand of ID Verifiers with proven effective and affordable solution for checking and detecting fake ID cards is the Viage. While the Viage CAV2000 reads only the Magnetic Stripe, CAV3200 and CAV3500 models read Magnetic Striped and Bar Coded driver's licenses. >>learn more.