Semicron Rental Store Point of Sale System Package
Rental stores Point of Sale Systems require tight inventory control and customer tracking functionality. Cash Register Express POS system allows you to know where your products are and who rented them. You have the option of setting Cash Register Express so that when you add an item to the invoice, you are prompted to choose whether you want to rent or sell this item. If a customer has not returned an item they rented from your store, and they try to rent or purchase an item, the system will notify you that this customer still has an outstanding rental item. You can add a late fee to their account by simply touching a button. This rental system is ideal for video rental, equipment rental, furniture rental, and many other rental businesses.
A typical standard rental store point of sale system should have computer, touch screen monitor, Cash Register Express software, cash drawer, pole display, receipt printer, and barcode scanner. Optional items include credit card reader and credit card processing software. The system features a robust reporting function that allows you to get details on rental items currently in your store, items currently rented out, and items currently late or overdue. Coupons are very effective for video or music rentals. You can issue coupons to your customers using the loyalty feature of the system. You can do this by just adding a boxed message to print at the bottom of every receipt. For example, you can put a message that says &quot20% off your next rental&quot or &quot30% sale this weekend&quot. This is the video rental software used by many rental stores.
Rental POS Bundles
RNT-600



Rental POS Package - Includes
• POS Computer, with 1TB HD, 4GB RAM, 3.20Ghz,
  Your choice of Windows 7, 8 or 10, Keyboard &amp Mouse.
• MMF Valu-Line Cash Drawer
• Thermal Receipt Printer
• Metrologic MS9520 Barcode Scanner
• Logic Control Pole Display
• 15-inch LCD Touchscreen Monitor
• Cash Register Express POS Software, Full, Pro Edition
• 1 Year Tech Support with upgrades.

• For other hardware options or add-ons, call 1-866-334-8194
RNT-602



Rental POS Package - Includes
• POS Computer, with 1TB HD, 4GB RAM, 3.20Ghz,
  Your choice of Windows 7, 8 or 10, Keyboard &amp Mouse.
• MMF Cash Drawer with Organizer
• Thermal Receipt Printer
• Metrologic MS9520 Barcode Scanner
• Logic Control Pole Display
• 15-inch LCD Touchscreen Monitor
• Cash Register Express POS Software, Full, Pro Edition
• 1 Year Tech Support with upgrades.

• For other hardware options or add-ons, call 1-866-334-8194
Rental Functions of Cash Register Express System
Deadbeat Control: shows you all the items that are currently rented by a customer
Return Rentals: allows you to put back rented items back to the inventory when the item is returned
Number of Days Rent: allows you to set the number of days a customer can rent an item without incurring late charges
Daily Late Charge: allows you to set your return overdue fees per day
Rating: specifies the rating of a movie, example, G, PG, PG-13, etc.
Late Rentals Report: shows you the rentals items that are currently overdue
Currently Rented Items: prints report of items that are currently rented out
Rentals in Store: prints report of rental items that are currently in the store
Rental History: runs a rental history of a rental item
Download
CRE Trial Copy
View
CRE Online Demo
View
CRE Getting Started Guide
Download Demos
CRE Features & Benefits

More CRE Features
Integrate your POS System to your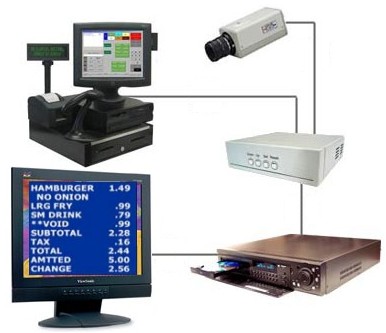 security camera system