Complete Liquor & Wine Shop POS System Packages
Besides fast checkout, the main challenges of a liquor store are inventory control, sales tracking and age verification. Cash Register Express (CRE) point of sell software helps to overcome these challenges with its various tools that allow liquor and wine shops ring up sales faster, track store inventory, and ensure that users check customer ID before making a sale. This award winning Point of Sale solution has been designed with a built-in customer loyalty program that will help liquor and wine stores increase sales. Users can also create gift packages easily. This system also helps store owners prevent theft, reduce labor, and increase sales and profits.
Inventory Control
CRE liquor and wine point of sale system features built-in inventory tracking function to that helps store owners track inventory levels, best and worst selling items, and overall inventory movement, including theft. When an item is sold, the system automatically deducts it from the store inventory. This allows the store owner to always know what is sold and what is left. Purchase orders, back orders, min/max levels, automated stock replenishment, direct store and deliveries are all features of Cash Register Express POS system that support store owners in managing inventory. The system also supports Pocket Inventory software, a mobile inventory tracking software that works with CRE to track inventory, process deliveries, add items, do inventory counts, and create purchase orders away from your POS station. » see more Liquor POS System benefits and functions.
Age Verification
The liquor store point of sale system has a built-in ID or drivers license verification feature to allow users prevent selling liquor to under aged customers. This feature requires the use of a special bar code scanner such as Honeywell Focus or Genesis MS7580 scanners with easy ID Checker. Store owners can mark specific products as age sensitive items that require the ID of the purchaser to be checked. As soon as the item is scanned, the system prompts the user to scan the customer's ID. The system will automatically verify the age on the ID. It is recommended that the cashier also visually matches the picture on the ID with the customer.
Fast Checkout
Cash Register Express features the fastest checkout function. You ring up items simply by scanning the bar code on the inventory item. Items without barcodes can be added to a transaction ticket or invoice by simply touching a button for that item on the touch screen monitor. The system automatically calculates and displays the price and any applicable taxes on the screen, with real time running total. With common dollar amounts hot keys, taking cash payments is simple. Credit or debit card payment is processed within two seconds once the user simply swipes the card on the card reader.
Liquor Store POS Bundles
LSP-600



Liquor Store POS Package - Includes
• POS Computer, with 1TB HD, 4GB RAM, 3.20Ghz,
  Your choice of Windows 7, 8 or 10, Keyboard &amp Mouse.
• MMF Valu-Line Cash Drawer
• Thermal Receipt Printer
• Metrologic MS9520 Barcode Scanner
• Logic Control Pole Display
• 15-inch LCD Touchscreen Monitor
• Cash Register Express POS Software, Full, Pro Edition
• 1 Year Tech Support with upgrades.

• For other hardware options or add-ons, call 1-866-334-8194
LSP-610



Liquor Store POS Package - Includes
• POS Computer, with 1TB HD, 4GB RAM, 3.20Ghz,
  Your choice of Windows 7, 8 or 10, Keyboard &amp Mouse.
• MMF Cash Drawer with Organizer
• Thermal Receipt Printer
• Metrologic MS9520 Barcode Scanner
• Logic Control Pole Display
• 15-inch LCD Touchscreen Monitor
• Cash Register Express POS Software, Full, Pro Edition
• 1 Year Tech Support with upgrades.

• For other hardware options or add-ons, call 1-866-334-8194
Liquor Store Functions of Cash Register Express System
Look-Up Customer: list of all invoices processed for a particular customer
Add new customer: create a new customer account
Discount Levels: set up discount levels for customers
On Hold Invoice: place transaction on hold and then process another transaction
Daily Gross Profits: print the gross profit for a specified date
Print Daily Totals on Receipt Printer: Summary of all invoices for all cashiers
Grand Totals by Payment Method: Breaks down invoices by payment methods (cash, check, credit card)
Grand Total by Date: Displays grand total for a given date
Inventory Report, Sales Summary: monthly breakdown of reports
Download
CRE Trial Copy
View
CRE Online Demo
View
CRE Getting Started Guide
Download Demos
CRE Features & Benefits

More CRE Features
Integrate your POS System to your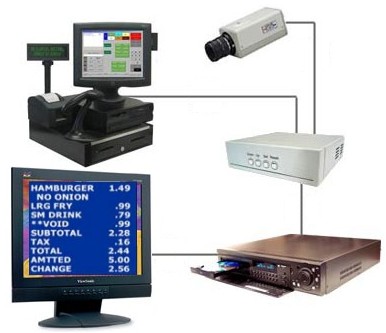 security camera system