ID-e Reader, Electronic Identification Systems For Sale of Alcohol and Tobacco
For age verification, ID checking, ID reading, and State Compliance for the sale of alcohol, tobacco, and other age restricted products and services, there is nothing like Tricom ID-e Reader system. The ID-e driver license reader reads most USA states and Canadian provinces with readable magnetic stripe and barcode technologies. Tricom products include ID-e2001, ID-e2004, ID-eM200 ID Readers, ID Verification Software for use with Verifone 3700 / VX570 terminals, and POS Cash Register Age Verification Software. Law Enforcement and support groups have suggested the use of ID-e type Age Verification Scanners at point of sale stores. The system allows you to add or upgrade to barcode any time. Just purchase the ID-e terminal with magnetic stripe reader and add barcode reader option anytime in the future. IDe Reader is available as countertop or portable, and is needed to help detect fake driver license, IDs and counterfeit credit cards.
The Ultimate Portable ID Reader
For driver license reading and age verification.
Reads Magnetic Stripe and Bar Coded ID.
On-board memory and TAG & BAN feature.
USB to PC download options.
ID-e Can Help Spot & Stop Credit Card Fraud
Spot an altered credit card with IDe Reader, which will show you the card holder's name, card number, and expiration date. Look for any data not consistent with the face of the credit card, such as if the expiration date is changed, or name does not match.
The IDe Counter
Record exactly how many people visited your establishment and when. Club owners can use this counter to keep track of how many people are in the club. Convenience store owners use this counter to quickly tell if their employees are checking IDs. Then the Compliance Record shows you the demographic information from customers scanned ID's in your store, from minute to minute.
TAG & BAN Customers
The Tricom ID-e Reader is the only driver's reader on the market that can allow you to perform tag and ban functions without the use of software. ID-e allows you to enter a tagged customer to the tag list right at the door, live.
Data in Memory
Designed to keep scanned data secure for legal defense, ID-e will display a "record" on screen for each scan up to about 3800 scans. You can add extra memory if needed. Each record shows the age, date of birth, expiration date, and the time the ID was scanned. This is called "Compliance Record". You can keep this record in the IDe unit or move and store it in your computer. This is your proof that a valid ID was checked for that purchase at that time.
ID-e Reader IDe2001, IDe2004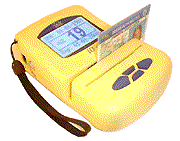 For users who need simple driver license reading and age verification, this is a cost-effective solution for retail store, convenience store, bar, night club owners, Law Enforcement, and many more. IDe Reader is the only ID Scanner on the market that gives you the option to purchase the terminal now for Magnetic Stripe Driver License reading and then add Bar Code Driver License reading any time in the future. ID-e Reader allows you to get updated on the latest Driver's License Formats. It operates on 2 AA batteries, which can handle approximately 2000 cards a day before getting low on power.

    Buy ID-e Reader
Verifone Terminal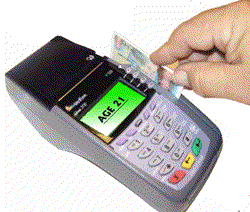 VeriFone Payment Terminal, now with Age Verification feature. The Omni 3700 or the VX model can now ship with Tricom Age Verification software as a stand-alone terminal (no phone line needed). The Age Verification software can also be downloaded into your existing VeriFone Credit Card Terminal, and work alongside your credit card application, so one terminal can do it all.

    Buy ID-e Reader
ID-eM300 ID Reader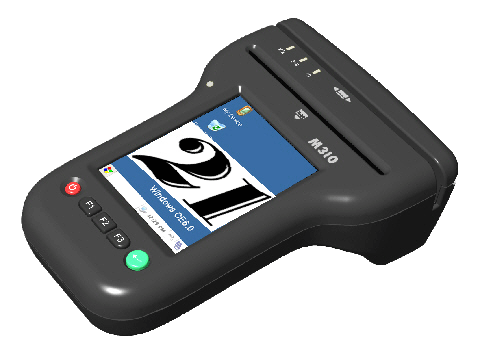 The new IDeM300 has all the features you have been looking for. This device allows the user to collect data from any ID card and send that data directly to a database, all done LIVE. Include PASS-Back and Banned VIP feature. New optional Wi-Fi feature allows users to directly WiFi to online database, and also the ability to Ban people, real time, from anywhere. The new ID-eM300 ID Reader with optional photo capture feature reads all bar coded and Magnetic Striped IDs. Optional IDBase Software is required.

    Buy ID-eM300
POS Age Verification
For POS Age Verification, the ID-e Reader, M200 and M250 are the ideal reader on the market today, for direct input of Driver's License data for PC use. You can check ID with this Age Verification Software loaded on your Cash Register Computer, and the ID-e Reader, M200, M250, or even a simple 3 Track Card Reader or Barcode reader connected to that computer. When you swipe or scan ID, the screen appears, showing the scanned data. After a few seconds, the screen automatically minimizes and disappears out of sight until the next scan. You can TAG or BAN a customer on the fly.

    Buy Age Verifier for POS
Visitor Management Software

This software allows the user to generate visitor management reports, frequent visitor reports, customer reports, and customer birthday reports by month. You can also create customer labels, banned customer reports, visitors by hour and day information with time stamp report. See your visitor trends and track peak hours for special events and management decisions.

    Buy Visitor Management Software
ID-e Features
• One swipe operation
• Displays age, DOB, expired
• Portable and hands-free
• No hook-up to computer
• User-friendly.
• AC/DC power operation
• 2 AA battery operation
• Backlit LCD screen
• Memory on board
• Optional memory upgrade
• User preference menu
• Wrist strap attachment
• FCC / UL approved
• Access all records on screen
• Anti-skid rubber pads
• Counter or wall mount
IDe Reader Benefits
• Detect fake driver's license
  and fraudulent ID's
• Detect fake Credit Cards
• Prevent costly fines
• Minimize customer and
  employee confrontation
• Cut down check-out time
• Generate mailing labels
• Attach to POS Cash Register
  for Credit Card processing
• No more guess work.
• TAG & BAN customers/VIP's
• Reads Casino Player cards
• Read magnetic striped ID
• Upgrade to bar code reading
  anytime in the future
• Keeps a counter number on
  screen for each ID checked
• Track the type of people that
  visit your business
• Generate Compliance Record
• Use as Legal Defense in Court
Who Is ID-e For?
• Convenience Stores
• Grocery Stores
• Supermarkets
• Liquor Stores
• Night Clubs / Bars
• Restaurants
• Gas Stations
• Cigar shops
• Movie theaters
• Card Dealers
• Crowd Control
• Gun shows
• Casinos
• Security entry points
• Airport Security
• All events selling age
  sensitive products
• All events selling age
  sensitive services.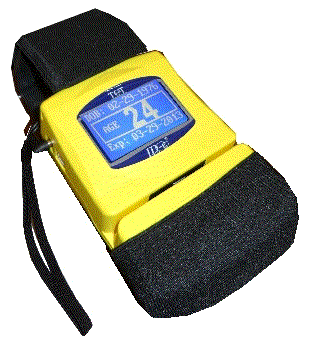 Carrying Case
option