Cafeteria POS Bundles
CPOS705



POS Package - Includes
• Posiflex, All-In-One Touch Terminal, with Intel Atom,
  Dual Core, 160GB HD, 4GB RAM, 1.8Ghz,
  Your choice of Windows 7, 8 or 10 (32-bit).
• MMF Valu-Line Cash Drawer
• Thermal Receipt Printer
• Restaurant Pro Express POS Software, Full, Pro Edition
• 1 Year Tech Support with upgrades.

• For other hardware options or add-ons, call 1-866-334-8194
CPOS710



POS Package - Includes
• POS Computer, with 1TB HD, 4GB RAM, 3.20Ghz,
  Your choice of Windows 7, 8 or 10, Keyboard &amp Mouse.
• MMF Cash Drawer, 18.8" x 21", with Organizer
• Thermal Receipt Printer
• Logic Control Pole Display
• 15-inch LCD Touchscreen Monitor
• Restaurant Pro Express POS Software, Full, Pro Edition
• 1 Year Tech Support with upgrades.

• For other hardware options or add-ons, call 1-866-334-8194
CPOS712



POS Package - Includes
• POS Computer, with 1TB HD, 4GB RAM, 3.20Ghz,
  Your choice of Windows 7, 8 or 10, Keyboard &amp Mouse.
• MMF Cash Drawer, Valu-Line, 16" x 16"
• Thermal Receipt Printer
• Logic Control Pole Display
• 15-inch LCD Touchscreen Monitor
• Restaurant Pro Express POS Software, Full, Pro Edition
• 1 Year Tech Support with upgrades.

• For other hardware options or add-ons, call 1-866-334-8194
Most cafeteria style restaurants are fast-paced. Therefore they require high speed and easy-to-use point of sale system that can process sales and check out customers in seconds. Restaurant Pro Express has been designed to meet these requirements. It allows you to enter your inventory items on a user-definable touch screen that you can tailor to your special needs. It also allows you to print orders to kitchen or beverage printers, and process credit cards in seconds.
Restaurant Pro Express system is compatibility with a vast hardware, allowing you to add the necessary hardware for smooth operation of your business. Pole display displays the price of the item so that customers can see what the price is and have their money ready. Cash Register weight scale automatically sends the weight of the item to the invoice, and the use of touch screen will speed up the actual invoice processing.
Customizable Menu
Restaurant Pro Express (RPE) system features a built in configuration utility that will allow you to customize the look of your touch screen as well as to add user definable hot keys. The interface screen is also customizable, and you can color code your touch screen, such as having different items in different colors. You can also have a picture on any touch button. You can also create a hot key for the common items you sell so you do not have to search through your menus items when you sell the item.
Download
RPE Trial Copy
View
RPE Online Demo
View
RPE Getting Started Guide
Download Demos
RPE Features & Benefits

More RPE Features
Integrate your POS System to your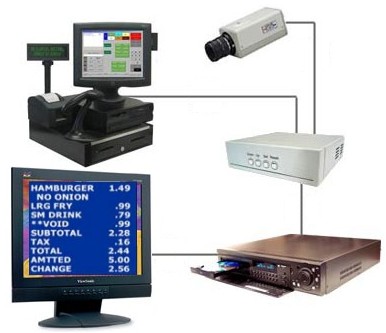 security camera system