Top Selling Cordless & Wireless Barcode Scanners | Barcode Readers
Semicron.com presents the following wireless and cordless barcode scanners as top selling barcode readers in their class. This information may be helpful to those who are new to barcode scanning and reading, or in the market shopping for barcode scanning devices, and need this type of information to determine which barcode reader to purchase. The sales information provided here is based solely on our internal sales records and experience of the products discussed. Our goals and intentions for providing this information are for buyers and users to be satisfied and happy with the product the purchase, as well as get the best value out of their investment. It is very important that you understand that it is possible that other scanner brands and models with equal or greater sales data exist on the market, but we do not have such information.
Wireless and cordless barcode scanners allow users to go where the data is to be managed. This makes it easier, faster and smoother to handle the most difficult barcoding tasks. Because there is no cable to deal with, there no restrain on the user's movement. These affordable scanners are ideal for data managememt in offices, schools, hospitals, and retail environments such as point of sale inventory scanning and customer checkout. If you are new to barcode scanning, you can read our tips on
choosing a bar code scanner
for your application.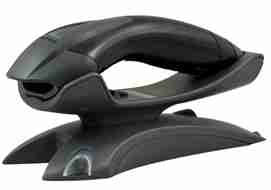 The Honeywell
1202G Voyager
is a single-line cordless laser scanner, with Bluetooth wireless technology. This scanner is the most affordable in its class. It offers a replaceable battery and multi-interface ports. This scanner delivers a very aggressive barcode scanning that users expect. The Voyager 1202G can be puchased as scanner only or as a kit. The kit includes Includes Bluetooth Scanner 1202G-1, Charge and Communication Base CCB00-0101BT-01N, USB Cable CBL-500-300-S00, and documentation.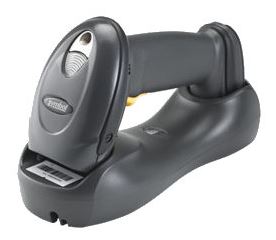 The Motorola
DS6878 Cordless Scanner
is a 2D imager that offers a complete data capture functions. This scanner is comfortable and easy to use, and can capture all common bar codes on labels as well as on cell phone displays. The DS6878DL model of the scanner can read drivers licenses and can be used as an
age verification device
. While the DS6878SR model features standard range bluetooth, the DS6878HC version is for health care applications, helping hospitals prevent medical document errors and improve patient safety.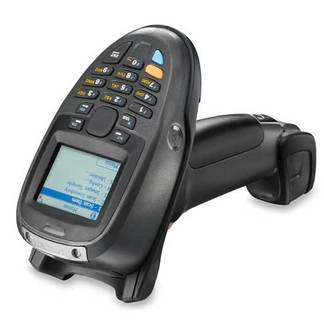 The Motorola
MT2000 Wireless Scanner
is a batch mobile computer with Bluetooth technology and integrated barcode scanner. This POS device provides 1D and 2D barcode reading, image capture, and the user has the ability to key in and view data. The MT2000 is a series of MT2070 and
MT2090
. It can be purchase as scanner only or as a kit. The kit includes the scanner, cradle, and Power Supply. This scanner is affordable and reliable.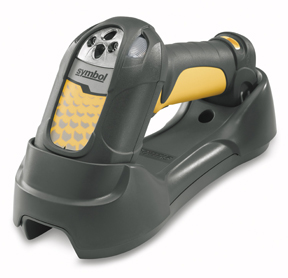 The Motorola
LS3578 Wireless Scanner
is a rugged and extended range handheld scanner with the capability of reading barcodes up to 45 feet away and as close as 0.25 inches. LS3578FZ version of the scanner has a built-in fuzzy logic technology that allows it to read damaged or dirty barcodes. This scanner is IP65 rated and is suitable for in warehouse, distribution facility, manufacturing plant and other harsh environments.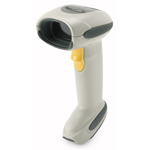 The Motorola
LS4278 Cordless Scanner
is a muli-line scanner that eliminates the need for exact aim when scanning, allowing scanning barcodes within a 50ft (15m) radius and allowing the user extra room to move around. This scanning device is suitable for use in retail point of sale to scan inventory items, hospitality to scan patient documents, healthcare and light industrial environments. This POS scanner enables users to hold the reader at any angle and scan.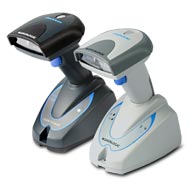 The PSC/Datalogic QuickScan
QM2100 Mobile Scanner
is a high reliability and performance mobile barcode reader and cordless imager that is it suitable for
POS System
applications such as price check, inventory control and shelf stocking tasks. It has a wide scanning area and a radio range of up to 40 feet. With its Batch Mode feature and long lasting Lithium -ion battery, this scanner can still read and collect data when it is out of range.

The Datalogic Gryphon
GM4100 Cordless Scanner
is a durable cordless imager that is perfect for applications where mobility is a requirement, such as in most point of sale systems and light industrial environnments. This image scanner can store thousands of codes in its memory, to be processed later. It available with optional 3-button keypad and display, which helps the user interaction with the host system. It also has a built-in multi-interface ports.

The Datalogic Gryphon
GM4400 Wireless Scanner
is 2D imager that is able to read barcodes from cell phone screens or screen of mobile divices. With this scanner, users can switch to handheld mode as needed. It can also be used as a presentation scanner while it is on its stand or base charging. This reader is scalable point-to-point setup to point to multipoint. Up to 16 scanners can be connected to the same base station.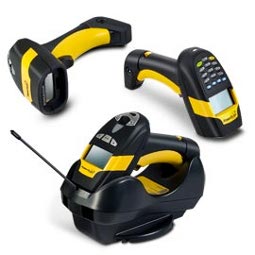 The Datalogic PowerScan
PM8300 Mobile Scanner
is a rugged industrial data collection laser scanner with built-in radio communication system that allows it to provide increased productivity and flexibility. The PM8300 is available with or without display and keypad. There are 3-key and 16-key keypad options. This barcode reader is capable of reading poorly printed and damaged barcodes. It can be purchased as a scanner only or as a kit that includes Scanner, BC8030-910MHZ Base Station, Cable CAB-436, Power Supply and Power Cord.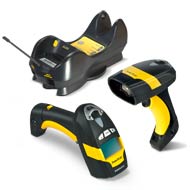 The Datalogic
PowerScan PM8500
is a wireless, rugged omni-directional barcode reader with optional display and 3-key keypad. It is available in standard range, medium range, and high density wide angle, with removable battery. This scanner has been designed to withstand extreme and harsh conditions in industrial environments and still maintain consistent and accurate readings. It is also available to purchase as a kit that includes the Area Imager, BC8060-910MHZ base station, cable CAB-433, power supply and power cord.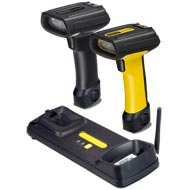 The Datalogic
PowerScan PT7000
is a rugged and industrial handheld, wireless linear imager with Bluetooth technology. This is the fastest industrial wireless scanner in its class, making it ideal for high-speed scanning tasks where thousands of barcodes need to be scanned in a very short time. Bluetooth Wireless has up to 328 ft range, and the scanner is IP65 Water and particulate sealing rated.