&nbsp
&nbsp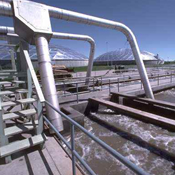 Sensaphone STATIONSitter provides the same 8-channel monitoring power as the Sensaphone 1800, but adds the convenience of duplex pump control logic for industrial Fill or Drain applications.

Each input channel can accept a NO/NC contact, 4-20mA , or temperature sensor. A universal output relay for local notification is also included. Configuration is quick and easy with simple voice-prompted keypad programming. The password-protected keypad also restricts local programming access.

STATION Sitter delivers alarm messages via voice phone calls, or text messages to cell phones and pagers. Up to 8 phone numbers or pagers can be contacted for alarms. Individual user acknowledgment codes track who responds to each alarm. Spoken detailed alarm history is available with just a few local keystrokes.

Call into STATIONSitter from any Touch-Tone phone to check the status of all monitored conditions, hear a spoken list of recent alarms, or to make programming changes.

The STATIONSitter comes with an internal microphone for custom voice message recording and accepts an optional external microphone for monitoring high sound alarms. The external microphone can also be used as a remote listen-in feature.

The STATIONSitter automatically monitors for power failure (requires an optional battery backup), and comes with a built-in 24 volt DC supply to power 4-20mA loops. The STATIONSitter is designed with superior internal lightning protection. Other features include telephone Line Seizure and a panel-mount enclosure with built-in mounting tabs. An optional NEMA-4X enclosure is available.

&nbsp &nbsp &nbsp &nbsp &nbsp StationSitter Features &nbsp &nbsp &nbsp &nbsp &nbsp &nbsp &nbsp &nbsp StationSitter Specifications
Part #
Description
Price
FGD-8300
Sensaphone, StationSitter
FGD-8300-SD
Sensaphone, StationSitter with NEMA-4X Enclosure, Solid Door
FGD-8310
StationSitter 5Ah Battery

Sensaphone Accessories


Sensaphone StationSitter Features
Advanced Capabilities
• Eight universal inputs, configurable as Normally
&nbsp Open, Normally Closed, Temperature, or 4-20mA.
• Easy-to-install with fully automatic input
&nbsp configuration. NO INPUT JUMPERS
• Scaleable range on 4-20mA analog inputs.
• Programmable recognition time for all inputs.
• Internal sensor calibration for all inputs.
Notification
• Eight phone numbers for alarm notification.
• Custom voice messages for the ID and
&nbsp ALL monitored zones.
• Text based alarm messages to alphanumeric
&nbsp pagers, and cell phones.
• Dial out test function to simulate and verify
&nbsp alarm notification.
• Individual user acknowledgement codes for
&nbsp tracking alarm activity.
Outputs
• One output channel for manual or automatic
&nbsp control from alarms.
• Two additional outputs for duplex pump control.
Pump Control
• Built-in Pump Controller runs independently
&nbsp from alarm monitoring.
• Control logic for Fill or Drain applications.
• Pump control works with analog level sensor,
&nbsp or from float switches.
Local Access
• Keypad and speaker for local programming.
• LED status indicators for all inputs and
&nbsp outputs, Battery, Power, Phone, and
&nbsp Pump Control Mode.
• Password protected keypad to restrict
&nbsp local programming access.
• Detailed alarm history with optional 30-minute
&nbsp snapshot history of all zones.
Remote Access
• Automatic Web status option, free for first year.
• Detailed alarm history with optional hourly
&nbsp snapshot history of all zones.

Other
• High sound alarm with remote listen-in.
• Packaged in a panel mount enclosure
&nbsp with built-in mounting tabs.
• NEMA-4X enclosure optional.
• Superior lightning protection.
• Three year warranty.
Sensaphone StationSitter Specifications
Environmental Inputs:
Number of Zones:
8
Zone Connector:
Terminal block
Zone Types:
N.O. / N. C. contact, 2.8K and 10K thermistor (-20° to 150°F), and 4-20mA (-10,000 to 10,000)
Zone Characteristics:
10K to 5V (temperature/contact) or 237 Ohms to ground (4-20mA)
A/D Converter Resolution:
10 bits ± 2 LSB
Zone Protection:
Gas discharge tubes, PTC fuses, and fast acting diode clamps

Microphone:
Internal:
For recording custom voice messages
External (Optional):
For listening in to on-site sounds and high sound level alarms
&nbsp &nbsp • Mic Connector: Terminal Block
&nbsp &nbsp • Mic Type: Electret Condenser
&nbsp &nbsp • Mic Impedance: 2.2K

Phone Interface
Terminals:
For connection to a two-wire analog telephone line
Line Seizure:
Terminals for connecting extension telephone devices.

Indicators
LED Indicators:
(8) Zone Alarms, Sound, Power, Battery OK, Phone in Use, Output On, and System On

Pump Control Inputs
Level Sensor:
Optically isolated 4-20mA input for connecting to a well-level transducer
Float Inputs (3):
Optically isolated dry contact inputs for connecting to float switches

Relay Output
2A 120VAC / 2A 24VDCt:
Programmable for manual switching or automatic switching on alarm

Pump Output (2)
2A 120VAC / 2A 24VDCt:
Programmable for duplex alternating pump control in Fill or Drain mode

Power
Power Supply:
120VAC / 12VAC 60Hz 10W wall plug-in transformer
Power Consumption:
5 Watts
Power Protection:
Metal Oxide Varistor
Battery Backup:
12V rechargeable (optional)
24V Output:
24VDC 40mA max.

Environmental
Operating Temperature:
32-122°F (0-50°C)
Operating Humidity:
0-90% RH non-condensing
Storage Temperature:
32-140°F

Physical
Dimensions:
10.5"h x 8.3"w x 1.8"d
Weight:
3.5 lb
Enclosure:
Aluminum housing with integral mounting flanges for wall or panel installation