Main Features and Benefits of Cash Register Express Software
Cash Register Express (CRE) Point of Sale solution is suitable and scalable for many types of retail stores, whether single store single station, single store multiple stations or multi-store environments. A partial list of major features and benefits of CRE software is shown below to help you in purchasing your next POS System.
System Installation and Setup
Easy to install and setup
Step-by-step procedure for installing and setting up the system is included
QuickBooks Compatible
Integrates with QuickBooks - transfer data from one to the other
Credit Card Processing
Process credit card manually or via the optional PCCharge or IC VERIFY credit card processing software
Inventory Control Functions
Inventory Control
Detailed Order history
Recall inventory
Out of stock reports
Re-order point alarms
Re-order and low stock reports
Vendor tracking
Multiple discounts levels
Purchase Order Generation- generates new purchase orders
Purchase Order Maintenance-review/reprint/mark off items as they are received
Non-Inventory Item- add an item to an invoice that is not part of your inventory
Add new inventory items -add new items to your inventory
Track serial numbers
Multiple pricing levels
Detailed inventory reports
Add inventory items at any time
Auto Cost Percentage for Non-Inventory Items
Create Departments or Categories for your Inventory Items
Allows you to group inventory items into different categories
Create as many departments or categories as you need
Assign Department IDs and Department Names you want
Search Department by ID or by name
Inventory report by Department. This report generates a complete listing of all the department IDs with their corresponding description.
Point of Sale Functions
Checkout customers fast
Many quick checkout options
Optional inventory lookups
Calculate and display change
Sale Pricing- place an item on sale for certain dates
Automatically calculates change
Customer Functions
Detailed customer history
Prints accounts receivable statements and reports
Look-Up Customer- list of all invoices processed for a particular customer
Add new customer- create a new customer account
Stores complete customer tracking
Accounts Receivable- make payment adjustments on a customer's account
Open accounts and set customer credit limits
Credit limit alert
Print Customer Labels- print labels for a customer on a barcode
Prints accounts receivable for customers owing money
Supports lay-away
Discount Levels- set up discount levels for customers
Customer Bonus- define bonus for customers
Bill To/Ship To (for mail order) - generates a list of customers and their ship to addresses
Add customer On-The-Fly
Prints mailing labels
Customer lookup by name or number
Track and print bar coded membership cards
Place transaction on hold and then process another transaction
Invoice Functions
Add notes to appear on the bottom of every receipt
Prints the ID of the cashier who processed a particular invoice
Allows you to put a customer's invoice on his account
Place an invoice on hold and then enter new transactions
Print On Hold Invoice- prints the invoice and puts it on hold
Void This Invoice- void the current invoice
Recall Invoice- display a completed or voided invoice
Recall On-Hold Invoice- recall an invoice placed on hold
Invoice Discount- apply a specific discount to the current invoice
Line Discount- apply a discount to a specific line of the current invoice
Tip Line on Credit Card Invoice- a line for tip amount on credit card invoice
Rental Functions
Deadbeat Control- lists all the items that are currently rented by a customer
Return Rentals - rent out items and put it back to the inventory when the item is returned
Number of Days Rent- set the number of days to rent an item without incurring any late charges
Daily Late Charge- set your return overdue fee
Rating- specifies the rating of a movie (Example: G, PG, PG-13, etc.)
Late Rentals Report- lists rentals that are currently overdue
Currently Rented Items- prints report of items that are currently rented
Rentals in Store- print report of rental items currently in the store
Rental History- runs a rental history of a rental item
Report Functions
Detailed sales history
Store old invoices.
Print reports to screen or printer
Daily Gross Profits- print the gross profit for a specified date
Print Daily Totals on Receipt Printer- Summary of all invoices for all cashiers
Detailed Daily Report- Detailed sales totals for the day
Grand Total by Cashier- print totals by cashier
Grand Total Sales by Item- print totals by item
Grand Totals by Payment Method- Breaks down invoices by payment methods (cash, check, credit card)
Grand Total by Date- Displays grand total for a given date
Inventory Report (Alphabetical) - list of all items in the inventory alphabetically
Inventory Report (Numerical) - list of all items in the inventory numerically
Inventory Report (Reorder) - inventory items that have fallen below reorder levels
Inventory Report, Matrix Quantity- items of a particular group in stock
Inventory Report, Daily Itemized Sales- number of sold of items on a particular date
Inventory Report, Sales Summary- monthly breakdown of reports
Unique Features
10 Lines of Optional Notes
All details of every transaction stored
Reprint any receipt or invoice any time
Place an unlimited number of transactions on hold
Recall/edit/complete on hold transactions
Serial number tracking
Multiple tax rates
Split tender
Track back orders
MS Office compatible
Security Functions
Password Protection
Define the functions allowed for each cashier
Network Setup
Set up the system on a network of any kind
Scale
Supports Avery Berkel, Hobert, and CAS Cash Register Scale
Works with or without Mouse
Access every aspect of Cash Register Express using mouse or ordinary keyboard
TouchScreen Monitor
Supports Touch screen Monitor
Download
CRE Trial Copy
View
CRE Online Demo
View
CRE Getting Started Guide
Download Demos
More CRE Features
Integrate your POS System to your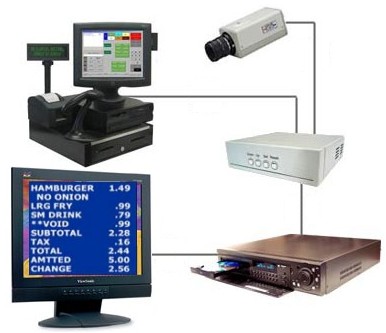 security camera system