Cash Register / POS Security Surveillance Camera System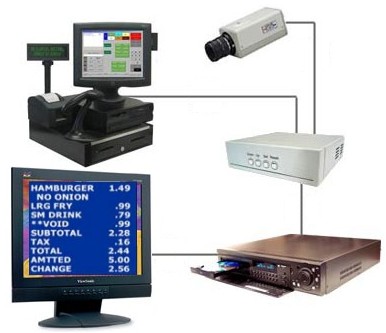 In any retail environment, theft and pilfering from the cash register is a potential risk and a drain on profits. The Cash Register / POS Security Surveillance System:
• Superimposes all register transaction data onto corresponding
  video, allowing management to verify cashier activity.
• Records both live video and POS transaction data.
• Provide evidence for fraud or un-intended operational error by
  recorded video and transaction log.
• Allows management to compare transaction data to video
  for identifying fraud or un-intended operations.
• Used in hundresd of Convenience Stores, Car Washes,
  Fast Food Chains, Retail Stores, Liquor Stores, etc.
• Has reduces shrink and increased profits for businesses.

How Do You Spot the Following Fraudulent Transactions Without Surveillance Camera ?

Sweet Hearting:   This requires an accomplice or "sweet heart" who loads up expensive items for check out. The cashier then rings up theitems but charges a lower price than marked, or omits some of the dearer items. This type of loss shows up as later as shrinkage.

Voids:   These can be used after the customer has left and the same transaction has been rendered void by the cashier. The money is still in the register but the cashier will removed the money either then or towards the end of the shift.

No Sales:   These are the most common suspect sale. There are legitimate reasons like correcting change mistakes but if the cashier is performing sweet hearting, pilfering, void transactions or substitute scanning, towards the end of a shift the cashier will remove the accumulated money before their shift ends. Therefore it is especially important to check for all no sale transaction within the last hour of a shift.

Returns / Refunds:  These are usually questionable when the exchange is made and cash is being paid out. Items are pulled from stock and fictitious refunds are given to friends relatives, or the cashier themselves.

X / Z Reads:  X Reads may be taken by fraudulent cashier who over charge customers or omit items and keep the money in the register until the end of the shift. They will then do a X read and compare the value with the amount in the resister and remove the surplus, resulting in the register to be correct at the end of the day, giving the excuse they were taking their tips they kept in the register. Z Reads may be taken early in the day to reset the register and all the taking so far pocketed by the clerk, resulting in the owner only getting the taking from that point on.   Call 1-866-334-8194 for details