&nbsp
&nbsp
A typical Point of Sale System or Computerized Cash Register system consists of POS hardware and software. Basic POS hardware includes computer, monitor, receipt printer, cash drawer, barcode scanner. Other optional hardware such as credit card reader, pos keyboard, pole display, etc can be added depending on your needs.

To estimate the price of a POS system, choose the software and hardware that meet your need. You can purchase a brand new computer, or use your current computer. Pay special attention to the interface ports on your computer before you purchase your peripherals.

A typical retail store or restaurant keeps a monitor, keyboard, and receipt printer on top of the counter, a computer under the counter, and a cash drawer on top of the counter or mounted under the counter. Many stores and restaurants use the Cash Drawer Organizer. The Cash Drawer Organizer sits on top of your cash drawer, and neatly stores your monitor, keyboard, customer display and receipt printer. Your computer and cables are safely hidden below your counter.

You can purchase individual components of the system if you know what you need, or you can purchase one of our POS packages, as shown below.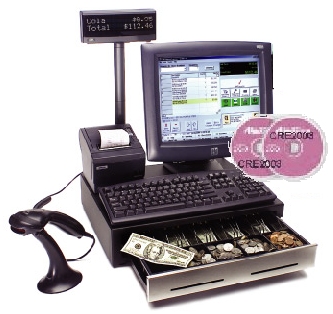 This page has moved to &nbsp Complete POS Packages
&nbsp