Barcode Express - Print Barcode Labels Directly From Your Inventory Database
You can now create your own barcode labels using Barcode Express Software. This is a Microsoft Windows based bar code design and printing software that will allow you to design and print your own barcodes to InkJet printer, Laser Jet printer or a standard direct thermal label printer. You can select an inventory item to print right from your Cash Register Express or Restaurant Pro Express POS inventory database and print a barcode. BarCode Express automatically imports inventory item information from the database. Once the inventory items are in Bar Code Express, you can select different size labels and the number of labels you want to print. Bar Code Express supports Butterfly jewelry labels, Clothing Hang Tags, Shelf labels, Split labels, and more. This software is a critical part of a point of sale systems to help successfully automate your store. The software only works with Zebra LP2824 and Cognitive Blaster Advantage direct thermal label printers.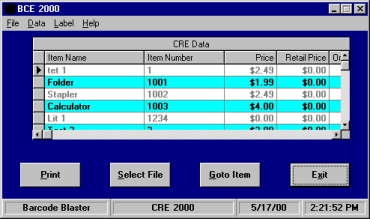 This software only works with Cash Register Express or Restaurant Pro Express POS Software, and Cognitive Blaster Advantage or Zebra LP2824 Direct Thermal Label Printers.


| | | |
| --- | --- | --- |
| Part# | Description | &nbsp |
| BCE | Barcode Express, Label Printing Software. Supports only Cash Register Express and Restaurant Pro Express Software, and Blaster Advantage and Zebra LP2824 Printers. | |
Main Features & Benefits of Barcode Express
• Easy barcode design
• Takes data directly from Cash Register Express database
• Go to item for quick item skipping
• Choose any number of bar codes
• Supports Blaster Advantage and Zebra LP2824 printers
• Supports Clothing Hang Tags, Butterfly Jewelry Labels, and more
• Prints to InkJet or Laser Jet printers
• Supports Standard Avery Labels
• Fast Mark/Unmark all to print
• Export to Labels Unlimited
• Imports from the General Store
• Create your own Bar Codes
• Easy Navigation Grid

• Complete POS Systems &nbsp • Computer Systems &nbsp • Monitors &nbsp • Barcode Scanners &nbsp • Barcode Printers &nbsp • Card Printers

• Receipt Printers &nbsp • Cash Drawers &nbsp • Pole Displays &nbsp • Palm Pilots &nbsp • Check Readers &nbsp • Credit Card Readers &nbsp • Scales

• Cash Register Express &nbsp • Restaurant Pro Express &nbsp • POS Keyboards &nbsp • POS Terminals&nbsp • Turnkey POS Packages

• Choosing Barcode Scanners &nbsp &nbsp • Credit Card Processing &nbsp&nbsp • Remote Monitoring Systems

• Inventory Track Express &nbsp • Why Computerize Your Cash Register &nbsp • Printer Supplies &nbsp

• Remotely access multiple computers &nbsp • ID Verification Devices &nbsp

---
| Home | About Us | POS Hardware | POS Software | Contact
© Copyright Semicron Systems