Label View Barcode Label Design and Bar Code Printing Software
LABELVIEW / LABEL VIEW bar code label design, generation and integration software. Software to design your barcode labels and manage your bar code label printing system.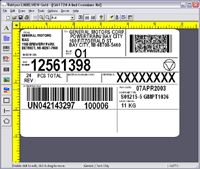 Whether you need to print bar codes, text, graphic images, or from databases, LABELVIEW has the features to help you design and print labels with ease.

It supports over 30 barcode symbologies, TrueType fonts, and over 1000 thermal and laser printers, providing the flexibility to handle all of your barcode labeling applications - today and in the future.
• Complete POS Systems &nbsp • Computer Systems &nbsp • Monitors &nbsp • Barcode Scanners &nbsp • Barcode Printers &nbsp • Card Printers

• Receipt Printers &nbsp • Cash Drawers &nbsp • Pole Displays &nbsp • Palm Pilots &nbsp • Check Readers &nbsp • Credit Card Readers &nbsp • Scales

• Cash Register Express &nbsp • Restaurant Pro Express &nbsp • POS Keyboards &nbsp • POS Terminals&nbsp • Turnkey POS Packages

• Choosing Barcode Scanners &nbsp &nbsp • Credit Card Processing &nbsp&nbsp • Remote Monitoring Systems

• Inventory Track Express &nbsp • Why Computerize Your Cash Register &nbsp • Printer Supplies &nbsp

• Remotely access multiple computers &nbsp • ID Verification Devices &nbsp

---
| Home | About Us | POS Hardware | POS Software | Contact
© Copyright 2014 Semicron Systems